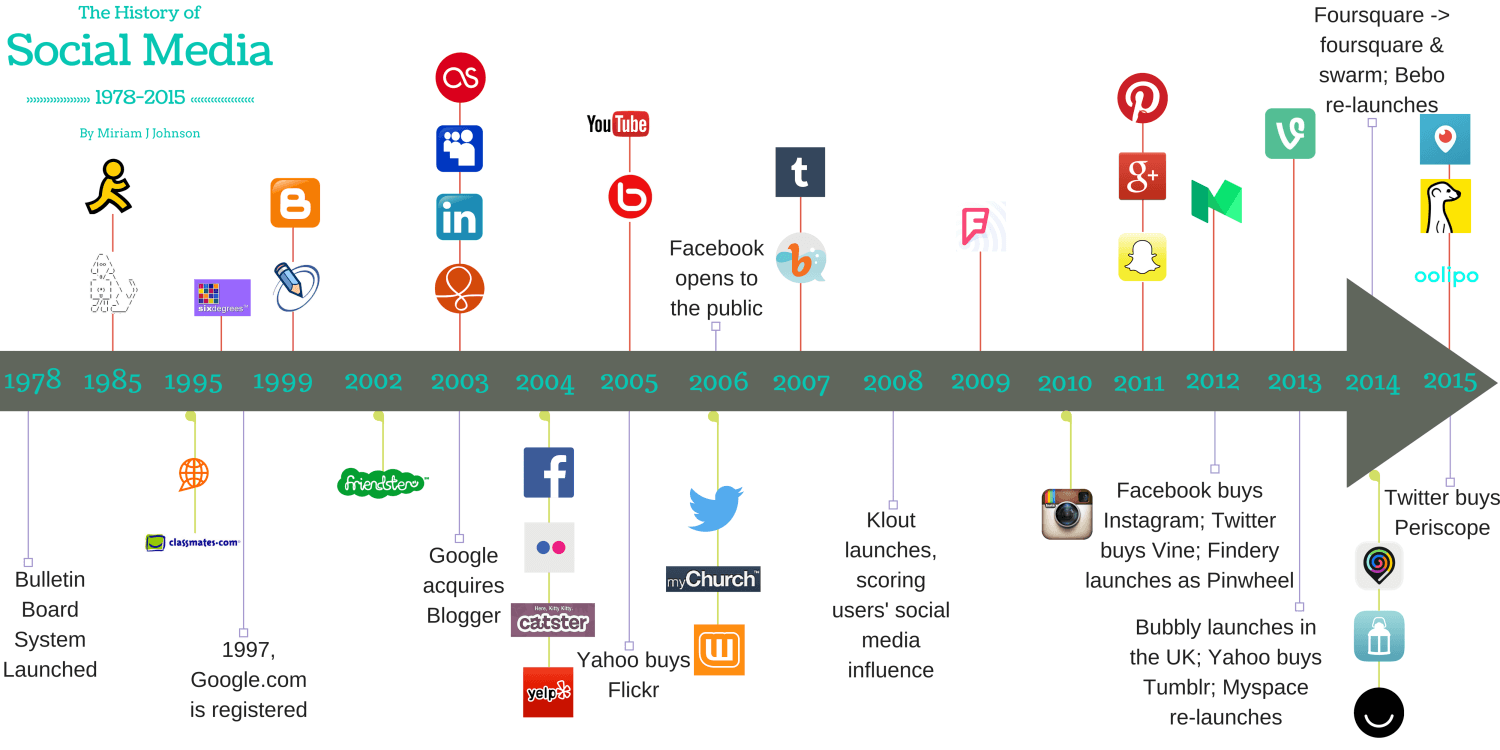 The History of Social Media
Twitter, Facebook, and Instagram are just a few of the most famous social media platforms that exist this century, with Facebook leading the list. Billions of people have been using social media since it boomed. As long as there are cell phones, tablets, computers and an internet connection, people can easily connect with other people from anywhere through social media. Some may even have multiple accounts registered on one social media platform.
But have you ever wondered how it all started? Who the founder was? How it has evolved? Let's take a quick trip down memory lane.
20th Century and the Precursors of Social Media
Usenet and its History
Tom Truscott and Jim Ellis first mentioned Usenet in 1979. Usenet allowed posting news post or articles to newsgroups. Usenet systems were the one responsible for the evolution of newsreader clients. They are also the precursor of RSS feed readers.
Bulletin Board Systems (BBS)
Bulletin board systems are one of the first forms of the social media in the late 1970's. They are hosted on personal computers and are accessible to one person at a time. BBS was the first kind of website that allows users to log on and connect with each other. It remained famous until the end of 1990's.
Instant Messaging Time
Internet Relay Chat (IRC) was first introduced in 1988 and is used for link and file sharing as well as keeping in touch. It came from BBS roots. It was also the real predecessor of modern instant messaging. ICQ, on the other hand, was known as the first program for instant messaging for PCs.
Early social media
Sixdegrees is the first of social media platforms launched in 1997. It had about a million members when it peaked. Unfortunately, SixDegrees was shutdown in the year 2001.
From 1997 to 2001, other sites followed like Asianavanue, Migente and Blackplanet. Users could create profiles, either personal or professional, and also add friends.
Social Media Advances in 2000s
In terms of modern social media, Friendster was the very first proper social network. It was founded in 2002 and has over hundred million registered users, mostly from Asia. Through Friendster, users can discover friends and expand their growing networks. Its idea was to safely meet more new people than in the real world. However, they took a break in 2015 to further improve their services.
LinkedIn, founded in 2003, first used mainstream networks for business. It allows posting and interacting through private messaging. LinkedIn has now added new options like groups; new profile features, forums, video, an ads platform etc. for easier use and greater scale.
Another social media network published in 2003 was Hi5. It has over a million active users as of now. Users have an option to decide if they prefer to be seen within their network or by other users in general. It is mostly popular in Central Africa, Asia and Latin America.
The Beginning of Facebook
Facebook started its history when it was first launched in Harvard in 2004. It quickly spread to other schools and by 2008; it had become the most famous social media platform and it still continues to grow rapidly. It allows its users to post content and personalize their profiles. Over the years, it has added many fresh features that made it even more popular. People could also use private messaging as well as add various posts to their walls. It is even easier for them to change the settings of their account based on their own discretion. The ads platform has now made it available for marketer to reach their audiences like never before.
MySpace
MySpace played a very important role in social media life since its launch in 2004. By 2006, it had grown to become the most famous social media platform in the world. With MySpace, users could customize their profiles completely, embed videos and post music. It also has MySpace IM allowing people to chat with each other.
Youtube
Youtube launched its website in 2005 and is the one first major sharing sites and video hosting platforms. Users can upload videos and even embed them to other sites or blogs.
Twitter came in 2006. It was originally designed as mobile SMS-platform. It has upgraded since then and now has over 300 million active users monthly.
2010 saw Instagram launch into the public domain
Instagram uses visual communication and social interaction to connect people around the world. It allows users to upload and share photos and video stories. It has many filters that could transform a boring picture into an Instagram-worthy masterpiece.
Many of us will have started out in business before any of these plaforms really took off. How have you embraced the rapidly evolving landscape of the social media world? Or maybe it's all to much to take on, on top of the day to day running of your business. If that's the case, have you ever looked at social media management? We can help your company enter the social media world to reach out to clients otherwise missed through traditional marketing methods. If you'd like to know more please read more here:
www.future-marketing.co.uk/social-media-management/